Boarding

Our Monthly Board includes:
Hay 4 times a day in winter months and 3 times in summer months
Daily turnout in small groups between 8 and 16 hours (depending upon season) in grass pastures
Mineral salt blocks provided in every stall
Owner-provided supplements added to feed at no charge
Fresh water daily in stalls and pastures
Top quality low dust pine shavings with stalls cleaned daily (twice daily during inclement weather)
Blanketing in winter months (one blanket) - multi blanket is extra charge
Private tack room space
Use of the facility 7 days a week
Horse Care
Horse Clipping
Bath & Grooming
Laundry Services
Horse Trailering
Assistance with veterinary care
Hold for farrier and regular vet appointments
Horses are our business and we strive for complete customer satisfaction. We would love to have you schedule a visit or a tour to further address your questions regarding our services, facility and our amenities in a one-on-one fashion.
Monday thru Friday 8:00am - 7:30pm
Saturday and Sunday 8:00am - 8:30pm **
All riders must be off their horses before closing.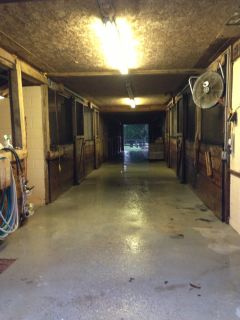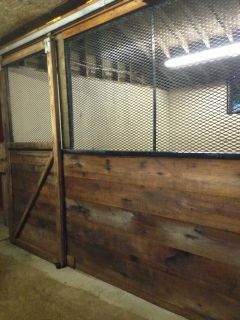 Facility:
Nine (9) 12x13 inside stalls and Four (4) 12x12 outside attached stalls with individual fans and lights
Wash racks with hot/cold water and lights
Outdoor 125' x 175' arena with lights, jumps, and letters
Field space  available for riding